I had previously written on the subject of the tensions between non-immigrant African Americans and African Americans with immigrant descent. However, I had only previously written about African immigrant interactions within Ohio. This recent article uncovers the broader problem between immigrant and non-immigrant African American cohesion.
A movement going by the American Descendants of Slavery, or ADOS, is attempting to highlight the voices of native-born African American families that have endured American oppression long before African Americans were accepted in American culture. Fartun Weli, executive director of a nonprofit that helps women of Somali heritage (Isuroon) stated that, "It's important that African-American identity is honored".
This is not just a minor problem in a fringe group. A Minnesotan population survey revealed that  134,000 immigrants were from African decent in 2017. This is a massive amount out of the total 361,000 Americans who identify with African lineage. The demographic change is so impactful that the Council of Black Minnesotans had changed its name to Council for Minnesotans of African Heritage in 2015.
As both communities begin cooperating together, competition unfolds. Immigrant families are often cramped and in need of expanding living space as well as desperate to avoid any legal problems that could send them back to their country of origin. This social pressure to succeed and develop economic independence has lead to the immigrant population seeking employment more aggressively than native born African Americans.
Although there may not be a clear solution to these problems today, there certainly seems to be clear and present tension between the two groups. Me'Lea Connelly, founder of the Village Financial Cooperative credit union, attempted to explain why first and second generation Africans have this tension, "The oppression that black folks face because of anti-blackness is still an experience that immigrants and refugees share in this country." Hopefully, this issue will lessen in importance and can be solved before it becomes more prominent in other communities.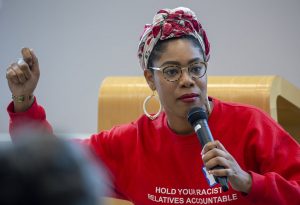 (Pictured above is Me'Lea Connelly)
http://www.startribune.com/from-census-questions-to-activism-refining-the-definition-of-black/509409012/?refresh=true